In the summer of 2019 in wake of the end of the Vans Warped Tour, this event was a touring festival going across the US, hoping to give a similar vibe for pop punk loving kids that were missing Warped Tour, and was organized by the scene veterans in The Maine. There were mainstay artists for the whole tour as well as some special guests playing select dates. Some notable special guests for the tour were, The Wonder Years, Four Year Strong, Forever The Sickest Kids, Set It Off, Every Avenue, and Jetty Bones. The artists that played every date of the festival were, The Maine, State Champs, Mayday Parade, Mom Jeans, Stand Atlantic, and Just Friends. All of these bands would not surprise us to see them on the Journeys Left or Right Foot stage at any given Warped Tour date.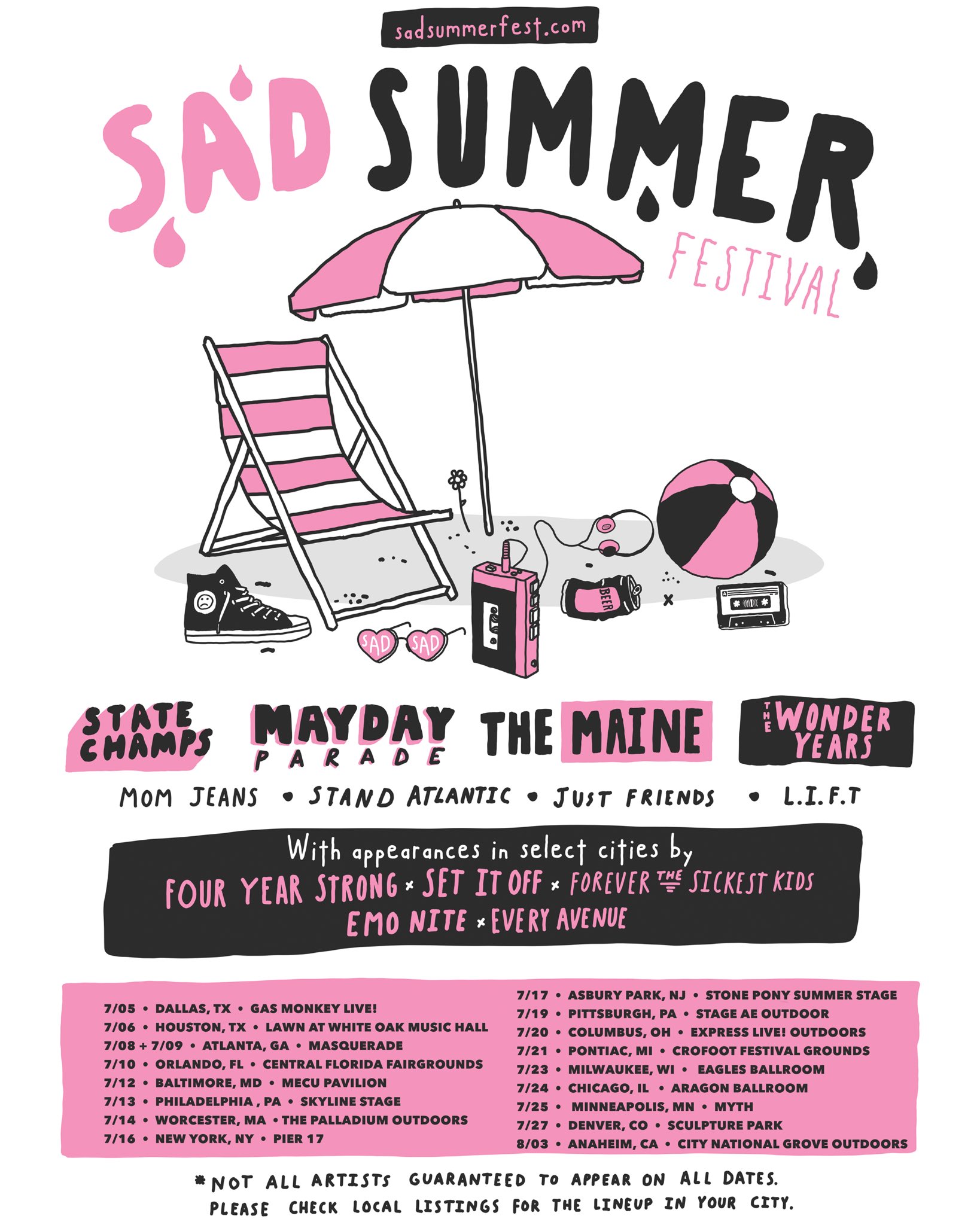 One super cool thing they did at each date was free meet and greets with the bands, I know at the date I attended that was one thing I was really excited for. I went with my sister and we got to meet The Maine while we were waiting outside the venue, as soon as we got inside we ran right to the Mayday Parade tent to meet the band and they were so kind to us, lastly we hopped in line and got to meet Derek and Ryan from State Champs who were the coolest guys ever. Doing free meet and greets with so many fans every day on the tour can really tire out these guys and I'm sure it did, but they were so happy and cheerful to do it and of course us fans were truly grateful. They also had super cool photo opportunities with awesome banners with lyrics from some of the bands on them, a human sized toy packaging for us to get photos inside of. The color theme of the festival was pink and that made for some really cool merch and photo opportunities again. There were awesome, local food trucks there and of course free water bottle filling stations for the festival goers which I made various trips to throughout the day because it was 100 degrees and 85% humidity. The heat didn't stop fans from having the time of their lives watching these awesome bands crush their sets at Express Live.
The set times for the bands were right around 35 minutes each because of the number of bands to perform each day which was even more so reminding of how Warped Tour was. Everyday the order of bands was changed with who plays when, although the bigger names always played in the second half of the day since there was only one stage whereas Warped Tour had about 30 different stages it felt like. This was the last of three festivals I went to that summer and I could not have enjoyed myself more, so much music from bands I love and even some bands I didn't know before but know now. Stand Atlantic was the one band that caught my attention the most, their songs are so upbeat and catchy, and their frontwoman Bonnie Fraser has a distinct tone and grit to her voice that is unmistakable. Overall, it has been one of my favorite festivals and cannot wait to go again. They already announced the lineup for the rescheduled Sad Summer 2021 festival and there will be an analysis for that lineup coming soon so, keep an eye out for that!